October 14th, 2012 - Ryan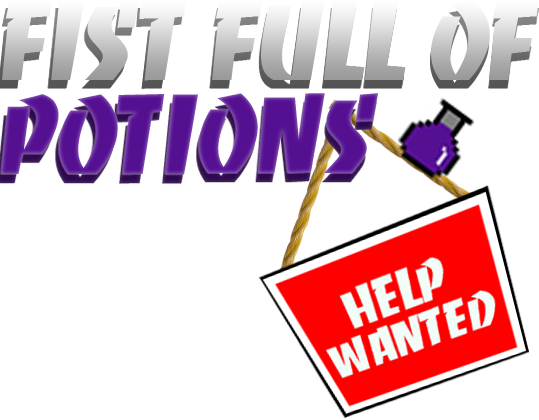 Fist Full of Potions is opening its doors again for new talent. Since this blog started we have seen staff members come and go. We have also seen staff members settle into a comfortable position here on the site. As these events happened, holes have started to appear in productivity on certain aspects of the site. So now we are looking for people who are interested in helping us with the current weak links in the Fist Full of Potions machine.
Before you quit your day job and update your resume, please read our mission statement found on our About page. This will give you a better idea of what we do here and why we do it. If you are still interested in working with us, here are a few positions we are looking to fill.
E-Sports Podcast Personality
FFoP is expanding into the E-Sports coverage field and we need help! We currently have two new members ready to start tearing apart Pro Gaming tournaments, but we need at least one more. What do you need to be an E-Sports podcast personality? Well, you need a microphone and a steady internet connection. You also need to have a solid understanding of Pro Gaming and watch various tournaments. These can be anywhere from League of Legends, Star Craft, Street Fighter, DOTA 2 and so on.
As a writer for FFoP your responsibilities are simple. Write about what you love. Write about what inspires you. There are no deadlines and no expectations. You probably already write paragraphs upon paragraphs all the time on a forum or have these discussions with your friends. Since this is a free time blog, you would only need to produce content when your free time allows.
Do you have a small video blog on YouTube? Considering starting one? Maybe you just like video editing? Whatever it may be, we are definitely looking for someone who is interested in producing video content. It could be Rants, Reviews, News; the only prerequisite is that the subject matter of the video has to be about video games in some way, shape, or form. If you're interested in working on video content for FFoP, contact us and we will work on the details as we go.
Do you love video games? Want to get your love out onto the internet in other ways than posted here? Let us know what you can do, and how you think FFoP would benefit from it. We are always looking for fresh ideas and creative people to join the FFoP Team!
Please download this Application: FFoP Contributor Application
And submit it to:  contact@fistfullofpotions.com