October 12th, 2012 - Ryan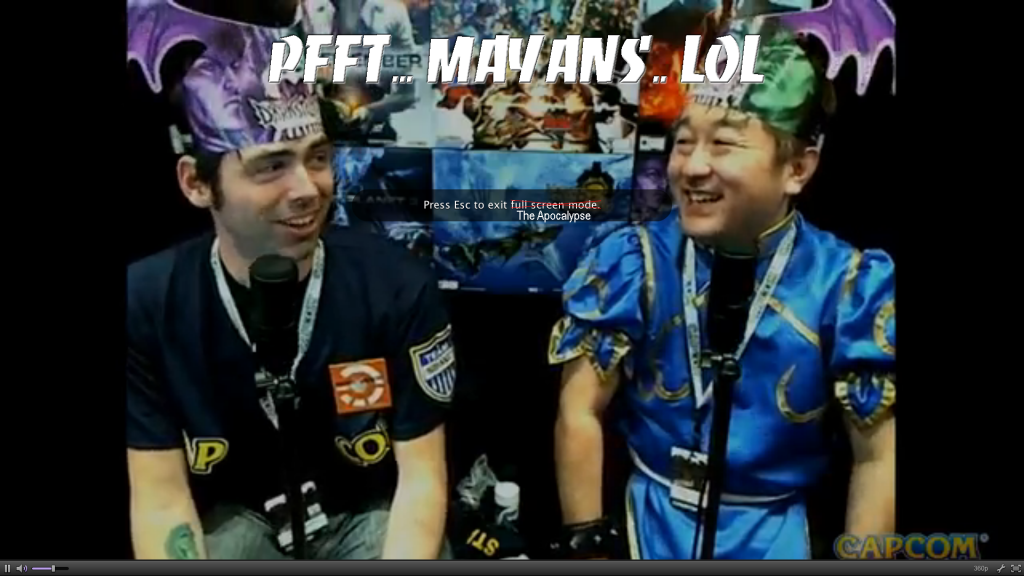 Capcom held their annual press conference this week at the New York Comic Con. They also had a live stream from their booth at the event. Among the games and previews being shown on the stream they also had an interview with Yoshinori Ono. Ono is of course the face of the Street Fighter series, as well as, most of the creative drive to keep the series and the fighting game community alive. During the interview they announced a Darkstalkers HD remake, which is being handled by the same team who gave us Street Fighter 3 Third Strike Online and Marvel vs Capcom Origins. However that's not the real news here.
The news comes from Ono's reactions to some of the community questions. One of which was about the existence of Street Fighter 5, he replied by saying that we probably won't see another numbered Street Fighter game until the 30th anniversary (which is 5 years from now, as this is the 25th). Saddening news for Street Fighter fans but its to be expected as Street Fighter 4 was released on the series 20th and Street Fighter X Tekken was on the 25th.
So if there's no Street Fighter game in the works, whats Capcom's Street Fighter team working on? Well according to Ono a full sequel to Darkstalkers using an engine similar to Street Fighter 4 is entirely possible, but the fate of such project relies heavily on the sales and hype of the HD remake. So, if your a fan of Darkstalkers and you want to see a new game in the series, buy Darkstalkers Resurrection when it comes out. Or don't, because either way its clear that we are getting a new Darkstalkers as the next big fighting game from Capcom.
Also he was asked about Tekken X Street Fighter and the status of that game. Obviously that's a better question for Namco Bandi and Katshurio Harada, but Ono decided to weigh in on it anyways. He's says that Harada is hard at work promoting and supporting Tekken Tag 2 and that he doesn't want to start Tekken X Street Fighter because the world is ending this year… wait… what? According to Ono, Harada is a "simple man" and that if he "does all that work and the world ends, it would all be a waste." He also went on to say that he feels that "once [Harada] wakes up in December and the world didn't end, he will probably start working on it" and that "it might be done in time for the 30th anniversary of Street Fighter."
Wow, if you had no previous recollection of the grade school nature of their relationship. You might be thinking to yourself, " damn, them be fightin' words." But with as often as these two poke fun at each other and criticize each others work I'm sure he meant it in the nicest way possible. Although, with as forth coming as Ono has been in the past with information, I wouldn't be surprised if it was rooted in some truth.
So there you have it, if the world doesn't end? Then we might get a Tekken style cross over game with Street Fighter characters. Here's to hoping the world doesn't initiate Pandora Mode!