August 8th, 2012 - Ryan
UPDATE: The link at the bottom for the game no longer works. I would love to send you to a working one, but I can't seem to find one. – Jason
An independent developer known as Flip Industries, recently released an up-scaled remaster of Kid Icarus from the NES. Done in the style of the Super Nintendo, consider this a "what if" game. They have also created a Zelda themed mulitplayer game and a Flash emulator for the NES. We got a chance to talk with the founder of Flip about their Super Kid Icarus project and here is what he had to say:
What is Flip Industries? Is it a collaboration of industry talent? Is it a college project? Or is it just a group of friends hanging out making a game?
It is a network of individuals with a passion for gaming and a dedication to consistently delivering quality content.  For the purposes of this interview, I am M, the founder/producer of Flip Industries and I am also responsible for all of the programming and web design for Hyrule Battles, Super Kid Icarus and the Flash Entertainment System (FES).
Is this something that you're considering doing for a career or is it just a hobby?
We all have full time jobs that are not in the video game or web design industry and work on the content as a hobby.  It is done for the challenge of learning something new and there are no current plans to do it as a career.  Doing it as a hobby allows the content to be free of advertisements or other corporate involvement.
What led you to choose Kid Icarus as a game to "remake?"
It is my favorite NES game and probably the game I played the most as a kid.  I must have played it several hundred times from start to finish.  I had done everything there is to do with Kid Icarus so decided to take it to the next level and program it from scratch.  Doing so allowed me to almost feel what it was like to be one of the developers at Nintendo R&D1.  For example, I learned spawned enemies come in "armies" of 4 and those armies spawn exactly 4 times.  It also made sense because the Kid Icarus franchise skipped the SNES era.  Also, noticed you said "remake" with quotes, and that is correct, because it is more in line with Super Mario All-Stars.  Hence the name "Super Kid Icarus – An Angel Land Story Retold."
Do you have plans to do it with any other old NES games?
Not as a fan-game.  I would bet the next thing you will see would be a completely original game based on the best aspects of classic NES games.
Were you hoping to get more attention with the 3DS Kid Icarus being announced, and had you been working on this before or after that game was announced?
Attention is irrelevant.  The game was done for the challenge and fun of it and then chosen to be shared on the internet in case anyone else might enjoy it.  I believe Kid Icarus: Uprising was first announced at E3 in June 2010. However, unaware of the announcement, development began in March 2011 and Super Kid Icarus was uploaded to the internet in May 2011.  The website was extremely basic at that time and took about 15 minutes to create.  Super Kid Icarus is very different from Kid Icarus: Uprising and it's development was done completely independently.
Is the map editor something you made special for the audience, or is it something you used while making the game?
The map editor was always intended but not used to develop the game.  The game was created by manually creating the tile maps while playing Kid Icarus on a NES console for reference.  See example of the top screen (16×15) of world 1-3 below.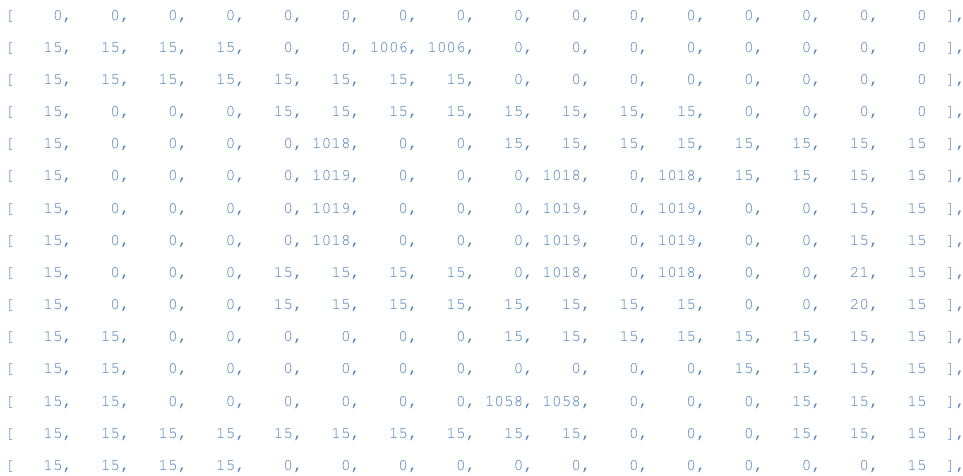 The idea was to try to remove frustrations and make the game more accessible to a wider audience.  That is why the cheats were included to overcome the very high difficulty level of the game and the map editor will allow fans to create their own Kid Icarus tales.  But we also didn't want to take away the true experience and that is why if you cheat a message get's displayed and you can't get a high score on the Leaderboard.
You are constantly working on Super Kid Icarus – do you have plans for new content aside from the soon to be unlocked map editor?
Stay tuned and check back often.
The purpose behind making this game was to learn Actionscript 3.0 in flash – did you have any experience programming with Flash in the past? If so, did that help or hinder the process, being that 3.0 is more along the lines of XHTML?
If by in the past you mean using Actionscript 2.0 or earlier, then no.  The first content I programmed was Hyrule Battles using a 30 day trial of Flash in Actionscript 3.0.  I liked Flash so much that I purchased it and continued working with it.
Do you have plans for original IPs that you'll use Flash to make?
Thoughts yes, specific plans, no.  Again, I would bet the next thing you see from Flip Industries will be an original IP, and there is a good chance it will be multiplayer as this is a new challenge.  Even if things are under way or in beta form, it wouldn't make any sense to mention it because it may never be released.
What about Flash drew you in? Have you tried using other programs like Unity or Game Maker?
Flash – The Draw of Flash was that it allows you to create content that is available online.  The most recent version of the content is always available on the same site, and available to anyone with internet access and the Flash Player plugin installed.
Unity – I have never tried Unity but might in the future.
Game Maker – I have never used YoYo Games Game Maker software.  However, my first foray into game creation was done using RSD's Game-Maker 3.0 (circa 1994).  I quickly found it to be way to constrictive and needed a lower level programming language.  The next phase of game programming for me was on a TI-83 calculator in math class.  I made a basic turn based RPG similar to Dragon Warrior among other things.
Have you considered developing a game outside the PC platform?
Yes, it would be a new challenge, it just hasn't happened yet.
Why should people keep an eye on Flip Industries in the future?
Because the world is ours.
Thanks again to Flip and we are excited to see what they do next. Also if you want to check out their game, do so HERE.