June 14th, 2011 - Ryan

During our travels through the massive halls at E3, we ran into some people you may know. Possibly some you don't. Some you should. And some were just for fun. Some we sat and talked with. Some we were lucky enough to just get the picture! In any case, hit the jump to see the people we met and find out how we met them!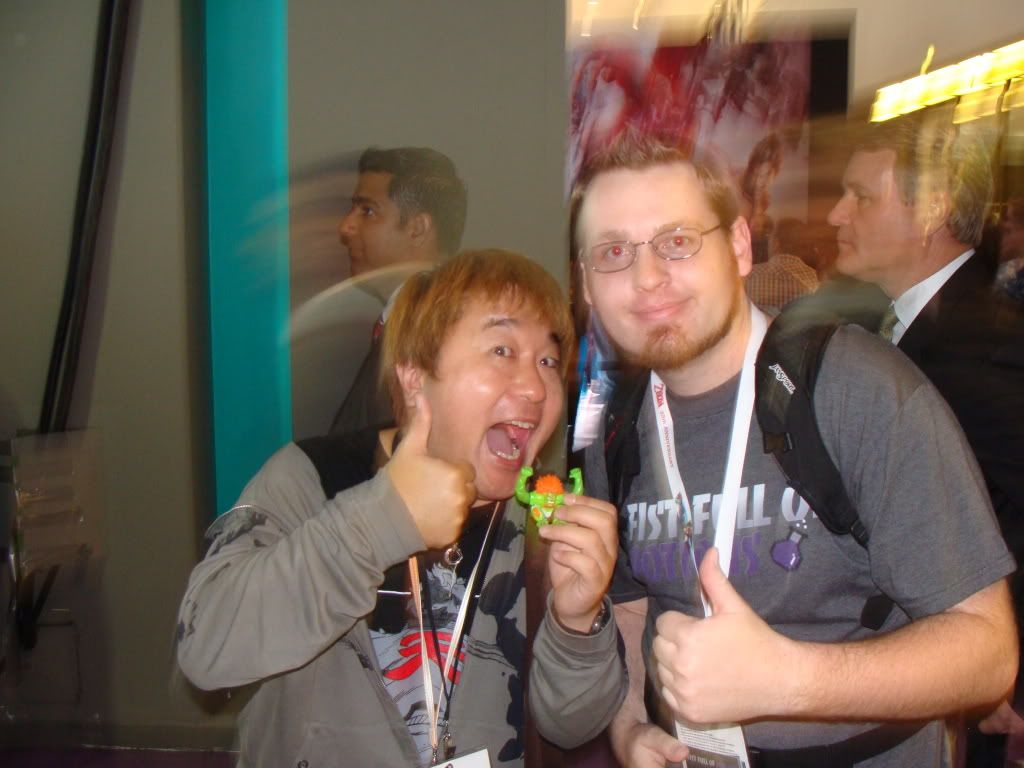 Yoshinori Ono: Producer at Capcom Entertainment. You might know him from games such as Street Fighter IV, Super Street Fighter IV, Super Street Fighter IV Arcade Edition and Street Fighter X Tekken. When Street Fighter was in its darkest hour, looking like the franchise was destined to be lost forever, because it's "not a sell-able name anymore." Ono-san put on his red bandanna and took it to the street with Capcom. In the end, Street Fighter is once again a huge name in the video game industry, thanks to Ono-san.
I unfortunately didn't get to talk with him, other then a thank you. However, even if I did get the chance, there wouldn't have been much of a point, as he only speaks about 2 sentences of English at a time (or whatever the script requires). Which is also why I was so hesitant to ask him for a picture, seeing as I don't speak a lick of Japanese other than "Konnichiwa". All and all though, it was a great experience, and I got to have my picture not only taken with Yoshinori Ono, but also his ever famous Blanka action figure, which he uses in all of his leaked footage of the game he is working on.
Ted Price: CEO of Insomniac Games. You might know him from such games as the Ratchet and Clank series, Spyro series, Resistance series, and their newly announced multi-platform game Overstrike. Ted Price may not be a name you're familiar with, but it's absolutely certain that if you call yourself a "Gamer," you have touched one of his products. Being a Sony exclusive developer for most of his career, Ted Price and Insomniac have grown to be too large for Sony's cage and have set to broaden their horizons by offering their hard work to as many gamers as possible. Some may be upset with this move as Insomniac was one of Sony's biggest exclusive developers, but that would only be from a selfish fanboy rage. We cant wait to see what Insomniac can achieve developing for all platforms, and we wish them the best of luck.
Now that you know who he his, was he nice? Well clearly, I mean… we got a photo with him. Back in 2008 I met Mr. Price at the Sony Press Conference, and then again back at the Sony booth. At the time, Fist Full of Potions didn't exist, so I wasn't looking for an interview, but that didn't stop me from talking to one of the biggest names in this industry. He was extremely humble and polite when I talked with him. He had a lot to say, and he talked to me as if he was just some guy I met on the street. Fast forward to 2011 – this time we ran into Ted at (of all places) the Nintendo Booth, where he was having a conversation with (presumably) another developer. Not wanting to interrupt, we waited patiently until Chris decided "its now or never, who knows if I'll ever get to see him again." So Chris politely waited nearby and asked for a picture. The strange part was that Ted seemed to almost have a "why would you want your picture with me?" attitude about it, as if it was no big deal. Mr. Price, in case you weren't aware, you are a very big deal. We love your games and appreciate you taking the time to snap a picture with Chris, you made his E3.
Keith Apicary: self proclaimed spokesman for all things classic gaming. Nathan J. Barnatt is one of our favorite YouTube stars, you might know him for characters such as: Trale Lewous the skittles spokesperson, Ray Amsley's Self Defence, but most importantly Keith Apicary of Talking Classics. Nathan is known for going to events like E3 in character and never breaking character the whole time. This was no exception, we got to witness Mr. Apicary work his YouTube magic at the Sonic Generations booth where he spoke with Sonic the Hedgehog himself and told him what a huge fan he was. He then proceeded to show Sonic his own spin dash, which failed into Keith plowing his crotch into the side of the booth. Later he did his own version of Sonic's roll past the booth.
When we arrived at the Sonic booth Chris' eyes lit up, and he proclaimed "DUDE" as he proceeded to point behind me. Not three feet away was Keith Apicary himself, setting up his shot for Talking Classics E3 2011. We watched the event unfold, and then Chris walked up to him and said "Well hello Mr. Apicary" in a debonair voice, to which Keith replied "Hiii…" in an almost Heath Ledger Joker tone. He asked for a picture, and when I went to snap the shot all I saw was a white flash. But when I pulled the picture back up we died at the classic expression Keith left us with. After the picture, Chris and Keith exchanged thoughts on the new Sonic game and Keith said that "this is going to be the best Sonic game since the Genesis." We couldn't agree more Keith. Thanks for the "lawls."
David Jaffe: Co-Founder of Eat Sleep Play, video game studio. You might know Mr. Jaffe from such games as the God of War series and the Twisted Metal series. If David Jaffe isn't ringing any bells, the name Kratos or Sweet Tooth should. Mr. Jaffe created God of War and Kratos, and when time came for God of War 2, Jaffe handed the series over to Cory Balrog, but stayed on as a creative director. It's said that Jaffe had the God of War games planned out from 1 to 3, but it's unknown as to how close the series stuck to his original vision. He left God of War to pursue smaller games. Trying to get in on the boom that the iPhone had created and made Calling all Cars for the PlayStation network. A pseudo Twisted Metal / Micro Machines. The game was not met with the success he had hoped for, and Jaffe moved on, or back to his first hit, Twisted Metal. His new studio Eat Sleep Play is now handling the 2011 release of the new Twisted Metal.
Chris and I both played Twisted Metal on day two, and we ran into a bit of a snag. Chris' game froz,e and as soon as he was dropped back in, everyone else's took a dump. Being seasoned gamers, and gamers who have participated in multiple betas, we blew it off and took from it what we needed to know about the game. On day three we wandered into the Sony booth, and passed the Twisted Metal booth again. I noticed they were resetting the PS3's and it was showing the Twisted Metal splash screen which (to my knowledge) has never been seen. So I quickly snapped a few shots and failed to notice that standing in the booth to my left, about 5 feet away, was David Jaffe himself. We waited for him to finish his conversation, and while he was exiting I quickly asked him for a picture. Jaffe was more than happy to stop, and then he caught me off guard – he began talking to me.
I told him I was a really big fan of Twisted Metal, and he asked me if I played the demo, I said yeah and he then asked if it crashed on us. We told him it did crash, and as he was trying to explain we kinda cut him off and said that we understand, the game is not finished and he seemed happy to know we understood. He then asked me if there was anything about the game I liked or didn't like, and then I locked up. Holy shit, David Jaffe is asking me for feedback on Twisted Metal? Oh god, what do I say? He's looking at me like he honestly wants to know… After about 5 seconds of panicking I pulled it together and told him that when I first grabbed the leader I wasn't fully sure where to take him on the map. Jaffe then exclaimed that I was at least the 3rd person to tell him that today and it's definitely gonna be something the team looks at for the final build. After talking to him a little more about it, he said he had to leave and then he was off. How cool was that? I directly helped influence the outcome of Twisted Metal!
A few other folks we got pictures with…
Yep, Boba Fett let Chris hold his gun. It's okay, I was scared too.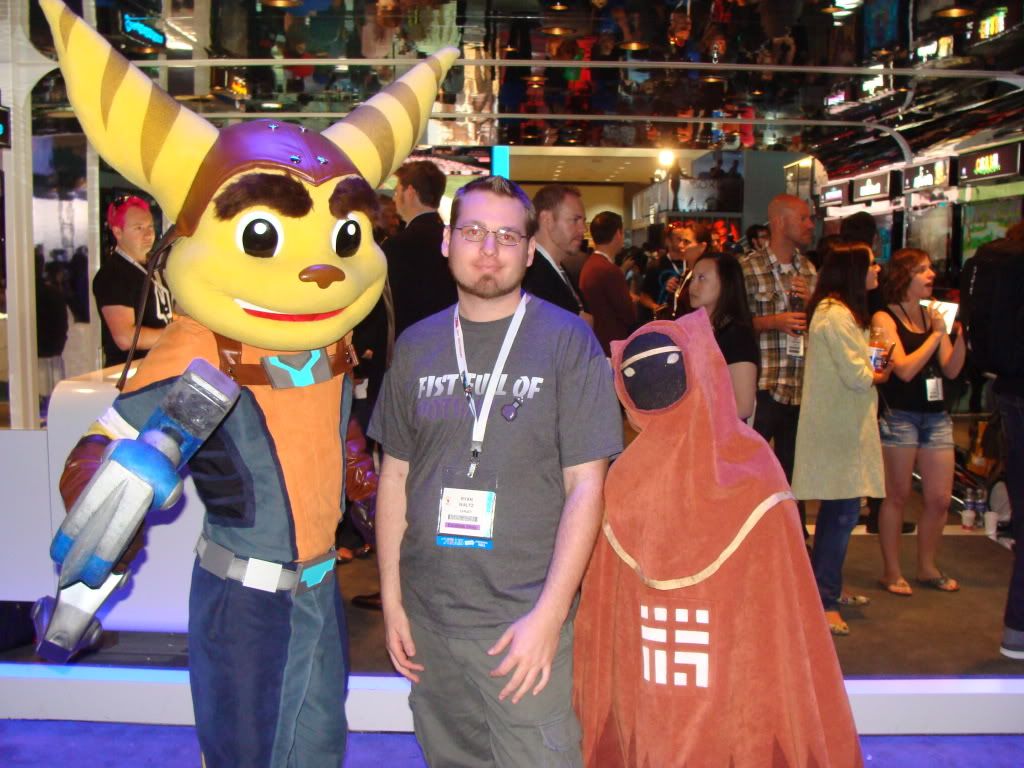 Ratchet on the left and the character from Journey on the right.
The poor guy in the Ratchet suit apparently couldn't see anything, as he always had a guide with him… I mean, uh… no, that was the "real" ratchet, he was nice. He spotted me some bolts so I could get a coke.